The 5 golden rules in purchasing and designing a quality kitchen
1. Organise the work spaces carefully
Kitchen work can be very tiresome despite the assistance provided by so many accessories and appliances. Careful organisation of the spaces can reduce the "obstacle course" effect, and pointless and awkward movements. The layout of all the various kitchen areas, respect for distances and the organisation of rational pathways are, therefore, the starting point for ensuring that the activities in the kitchen are creative and enjoyable.
The first, simple rule is to join the storage areas (store cupboard, fridge), wash areas (sink, dishwasher) and the cooking area (hob) in a contained triangle of work. The total of the three sides that link the areas should not exceed 650cm. In an optimum layout the three areas should be punctuated by worktops.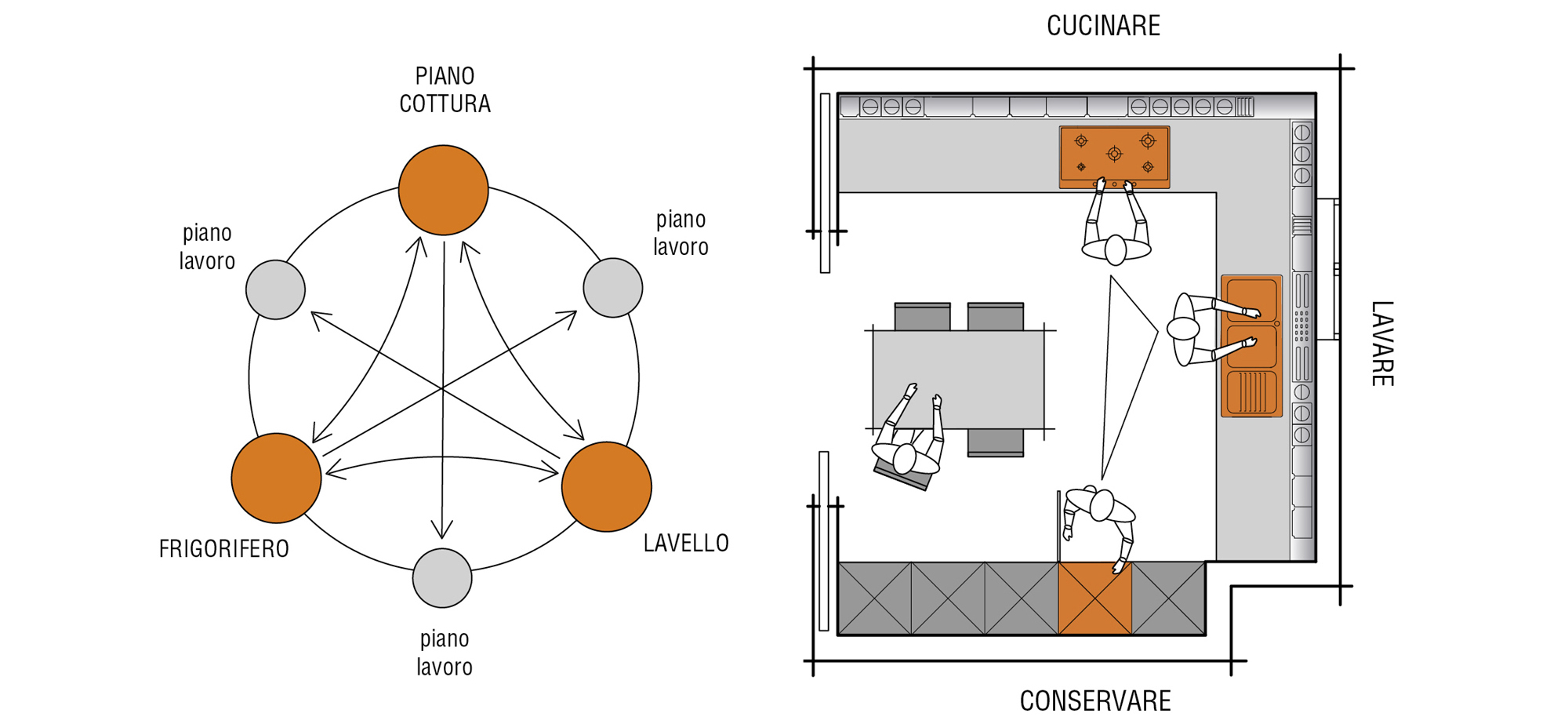 2. Worktop height
Select a worktop height that is ergonomic for your stature: this will help you to avoid any incorrect posture that can cause tiredness or pain.

3. Depth of worktop
If the space available allows, choose worktops with greater depth: it increases the sense of unhampered movement allowing you to work in a more generous space with an improved overview.
The traditional 60 cm depth of the bases has evolved, and now tends towards wider spaces with better ergonomics. By increasing the depth of the bases, the wall cupboards can be lowered, putting them in a more ergonomic and functional position.p>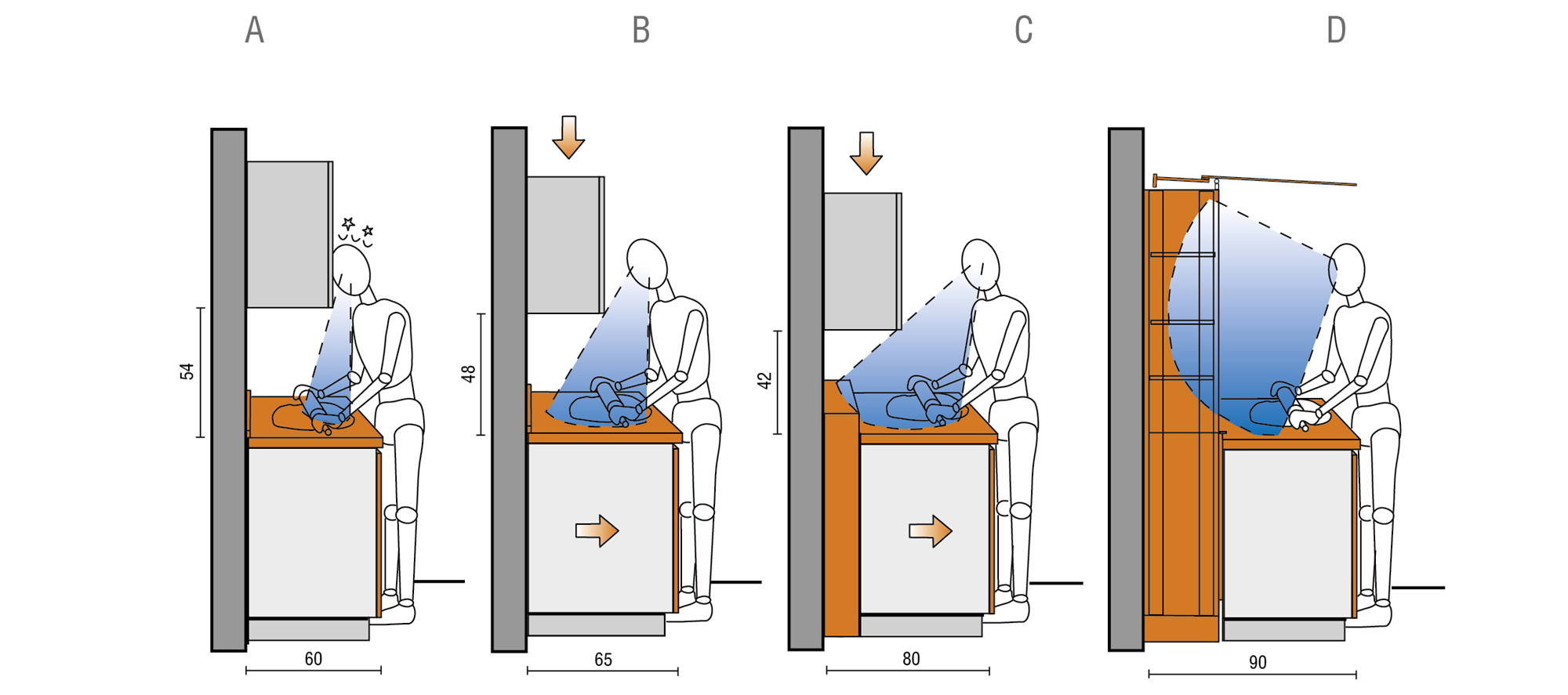 4. Pull out kitchen drawers
For the base units, choose useful drawers equipped to suit your requirements.
A - The traditional base units with doors and shelves force you to crouch and compromise good posture to remove and replace objects positioned in inaccessible and poorly illuminated spaces: over time, this can have serious health consequences.

B - With the full-depth pull-out drawer, all the contents are visible, accessible and easy to find.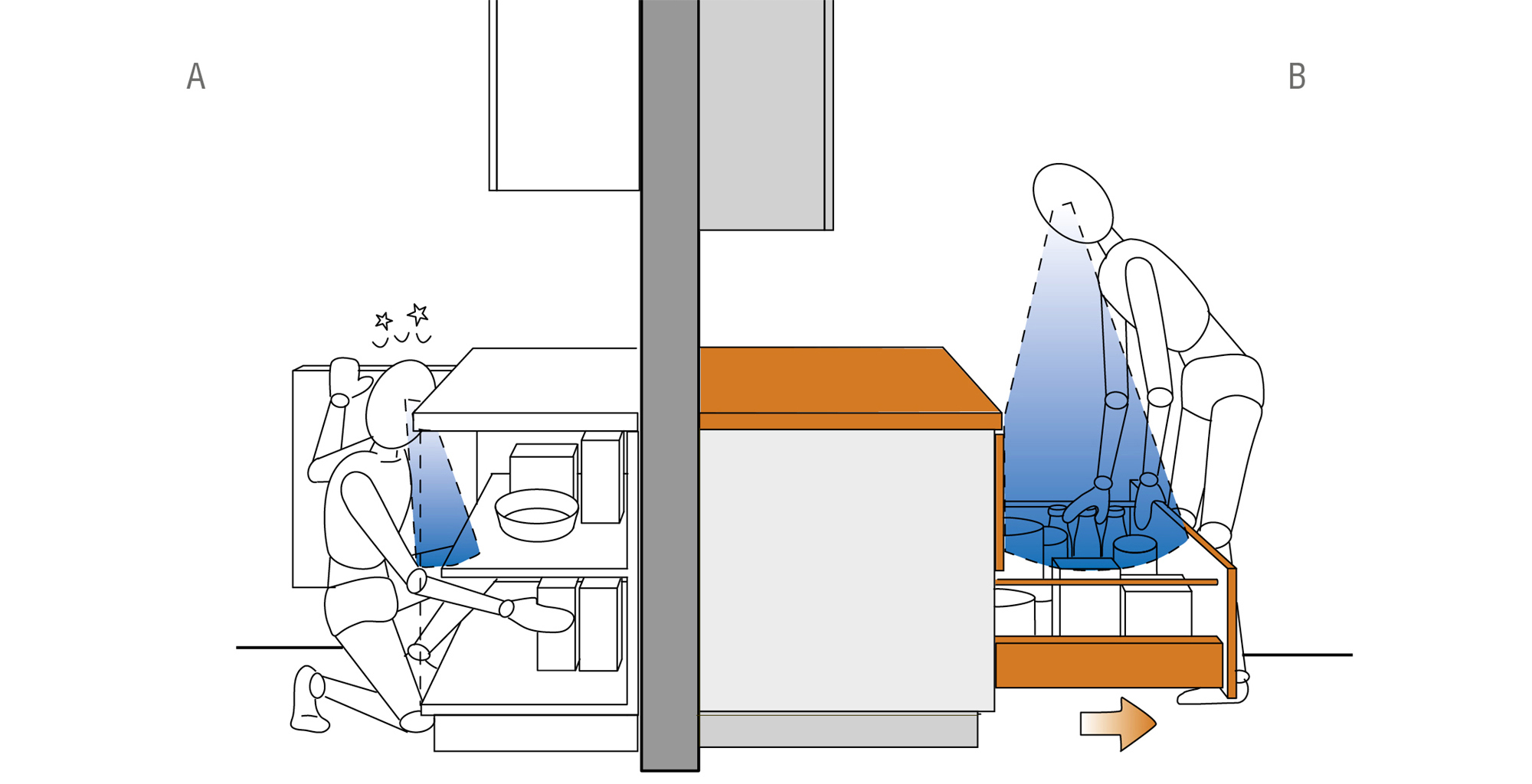 5. Minimum sizes
A - Between a table and wall or any other object, the minimum distance to facilitate free, front-on circulation, passing behind someone sitting at table, is 120 cm.

B - To allow a person to work and, if necessary, open the cupboards and drawers behind someone sitting, a minimum distance of 135 cm is needed between the edge of the table and the units. If the units have a depth of 80 cm, an extra 15 cm needs to be added.

C - To establish the necessary distance between the worktops and other elements placed in front of them, the amount of space needed to enable a person to move and use or open the appliances and unit bases with respective doors and drawers, must be taken into account.

D - In front of the dishwasher a minimum space of at least one metre must be kept free for the loading and unloading operation. To allow someone to walk past front-on during these operations, the space must be enlarged by another 70 cm if in front of it there is a wall.